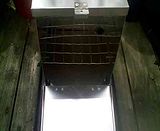 This is absolutely amazing. I had to try it out as soon as I received it. Perfect chance for letting my son make something. He picked out blueberry "muffins". We used the pans that came with it so they were more like cake. But, that was fine. This
Bemco Backpacker Oven
is so easy to put together and use. It is in a nylon bag to keep it all together and ready for taking on the road. After I used this today, I know for sure that this would be great for a bug-out vehicle , camping, or to just use anytime for off-the-grid life.
I read through the instructions one time and in about 5 minutes I had my Sterno lit up and preheating the oven. My son mixed up the blueberry muffins to put in! I had this set up on our back deck with a cookie sheet under it. It worked so well. I was really surprised and loved the idea of having baked something without heating up the house. I LOVE THIS!! I really recommend anyone who wants to have a survival lifestyle and be prepared for anything to get one of these. This is the 7 inch one and it only weighs about 24 ounces, making it great for a backpack. It heats up quick and saves on your cooking fuel. I used a Sterno , but you can also use it set up on a RV cooktop or use hot coals from your grill in it. The heat stays in this and cooks up quick. Reaches 500 degrees quickly. It cooked up our cakes evenly and the bottoms were perfect. No scorching at all. I am going to use this a lot. It is made of lightweight aluminum, so it will be easy to get out and put up. I won't be lugging around a heavy oven. Tomorrow I am going to make some of my homemade biscuits and have my hubby make some gravy. This is my new favorite Survival Gear!!
Disclosure of Material Connection: I received Bemco Backpacker Oven for free from
Bemco Backpacker Oven
as coordinated by Deep Creek PR an
Outdoor Industry Public Relations Company
in consideration for review publication.