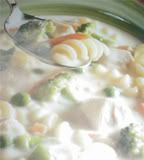 This is another great recipe that uses what is already in your food storage and is great for a cold day. This also proves that having a great meal does not have to cost a lot.
CHICKEN PASTA CHOWDER
1 package of that Green Giant Pasta Accents Primavera Frozen Vegetables with pasta. I can always get this on sale and with a coupon. Frugal.
1 16 ounce can of chicken broth
half a cup of water
1 12 ounce can of evaporated milk. Another thing that you should have plenty of in your food storage.
1 table spoon of corn starch
2 cups of diced cooked chicken or use some of your freeze dried chicken. I used some of those canned chicken in mine the last time that I made this and it was good.
In a large pot put the vegetabel mix, broth, and water. Bring that to a boil. Reduce and let simmer until the vegetables and pasta are tender.
in a small bowl mix the milk and cornstarch and blend them well. Add the mixture to the soup and stir it over a medium heat until it is bubbly and thickened.
The Prepper's Pocket Guide: 101 Easy Things You Can Do to Ready Your Home for a Disaster
Ultimate Family Preparedness Pak
120 Serving Breakfast Only @ $198 (120 Servings breakfast assortment. No entrees) - Order Now!